A typical historic "New England" town located in the heart of South Central Massachusetts. Southbridge holds Vienna within its bustling, uptown interior - this pedestrian-oriented area of town hosts attractions such as NotreDameChurch, worthy of being called a Cathedral this is not to be missed no matter what your religion. A truly beautiful example of mid 1800's architecture. Our Main Street offers gifts, antiques & clothing shops, CVS, taverns, a brewery & bars, for some culture in the area our Quinebaug Valley Arts Council often hold shows such as the Puppet Theatre or Local Painters, local area banking Ice cream shoppes, restaurants and our local Post Office all located within a 5 minute walking distance. Our town Library boast a lovely vaulted barrel ceiling for Artist/Author Book Signings such as Gregory McGuire, author of "Wicked", a Broadway sensation! Check the web site to see what to expect while your visiting.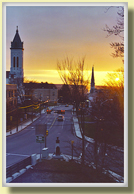 If your in the mood for something more upbeat check out the night club
MillStreetBrews to see the schedule and what's playing. Local and National Bands perform at this converted Mill Building once the home of Hamilton Woolen Mills, the 2nd oldest Woolen Mill in the country. A little different pace is the SturbridgeCoffeeRoaster's, with night time entertainment monthly.
Southbridge Town Page